This weekend I made some photo pendants that will be gifted in lovely bags provided by
The Artisan Group
to the press at GBK's MTV Movie Awards Gift Lounge this June. I took some photos to share the process.
First I take my sheet with my photos printed just ever so slightly larger than the pendant will be. For these pendants I am using a glass cabochon and a metal pendant tray.
I carefully glue the glass to the photos using an acid free, photo safe glue. This is the hardest part as it is important to evenly coat the glue and to ensure there are no bubbles in the glue that could show through when it has dried.
Once the tops are glued onto the photos to my liking, I set them aside overnight to ensure they dry completely.
They will look like the picture to the left once they glass is on top. I don't cut at all until everything has dried.
After the glue has dried completely, I give it 24 hours usually to make sure it's 100% dry. Then I cut them out carefully using the glass as my guide. Once they are cut out I glue them into the metal tray using an acid free glue and seal product. This will not only glue them into the tray but provide some protection of the photo. See below.
These pendants are also available from me through my
Etsy store The Shutterbug Eye
.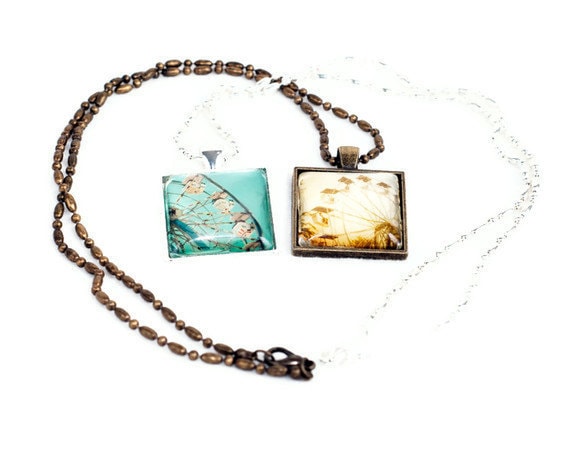 DK Miller